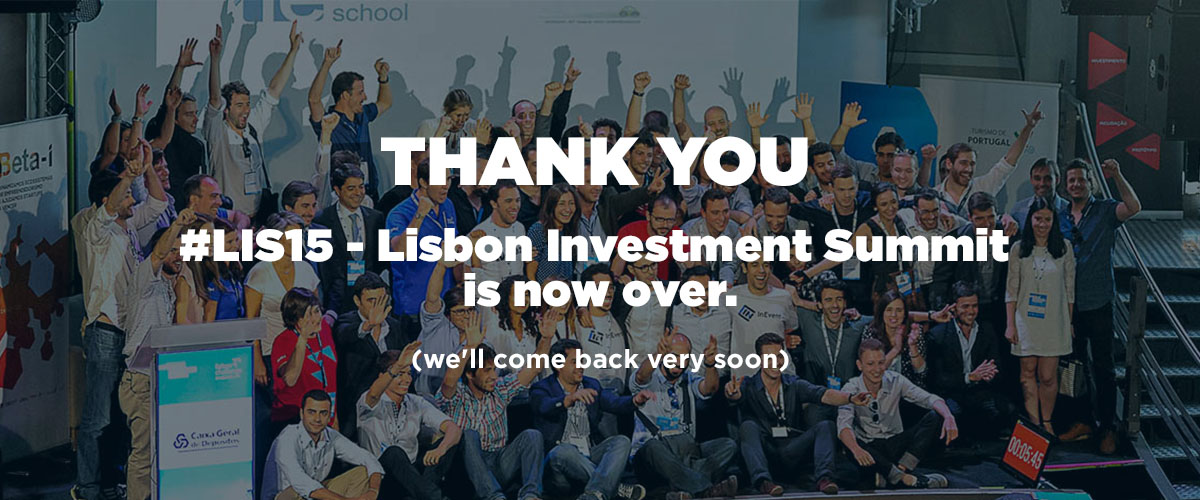 It's been a few days since the Lisbon Investment Summit ended and guess what? It's time to celebrate it. With this in mind, we have decided to make one last list, the list of the big moments. From the winner of the Caixa Capital Award to the best talks and workshops we have summarized #LIS15 in 10 big moments. Because these moments deserved to be shared with the world and sometimes writing it down is just the best way to do it.
1. Our own Ricardo Marvão inventing the energizer to absorb energy from the audience
Ricardo was the host of the main stage but just before he got started he spoke of an interesting idea that he came up with on the way to the Palace. He thought of creating something he called the energizer. This invention of his would absorb the energy from people and inspire those who need inspiring. He then conducted his first experiment on stage by facing his hand palms to the audience while asking for people to show a little more enthusiasm so that he absorb it and get #LIS15 started.
2. Getting to know startups who have rebuilt Lisbon
Many startups are coming out of Portugal and that's what we wanted to show to the world. However, we had some of the pioneers on stage. We had Uniplaces, Talkdesk, Feedzai and Seedrs talking about how they grew their companies into successful businesses and how they're planning to expand globally. When most of these startups first started most people in Portugal had no idea what a startup was… Things have changed over the last few years and most of the entrepreneurs who were at #LIS15 prove it.
3. Alex Barrera ironically saying to investors: "your time is up!" 
Well, we knew the reversed pitches would be interesting because we love turning the tables… But Alex Barrera raised our expectations. The man with the hat and also a journalist at Tech.eu took the stage with the energy and enthusiasm to make everyone laugh. All the investors had 3 minutes to pitch their VCs and when the time was up, Alex just said: "Your time is up – it actually feels good to say this to an investor…".
4. Stephan Morais saying that Lisbon is right after Berlin and London as a startup city
Stephan Morais, Executive Director at Caixa Capital, considers Lisbon as a top startup city in Europe right after Berlin and London… Who knows what comes next?
5. The Jazz concert in the garden
The garden had a grove and that grove asked for something more than just a regular coffee break with drinks and finger food. There's was a Jazz band setting up the mood for networking and we honestly hope it inspired many deals.
6. The Lisbon Challenge Startup Pitches
Yes, we're a bit biased on this but to see the progress of the Lisbon Challenge startups was memorable. Great pitches and presentations from the entrepreneurs in the house. All the videos are coming soon… Stay tuned!
7. Those workshops and discussions in the attic
Some people say attics are haunted. Well, this one most certainly was. Haunted with new trends, interesting discussions, and wild crazy ideas. We talked about the Digital Single Market, the importance of failure and success, lean innovation, growth hacking and much more. It felt good to pull up our sleeves and get things done at a tech conference.
8. The One on One meetings in the garden
The garden was full of benches and sofas so that the more than 170 one on one meetings could take place. The entrepreneurs had mentoring sessions with the speakers while enjoying the breeze. We bet this helped ideas flow…
9. Everything happening on Twitter and Periscope
During these 2 days, we had over 2000 tweets and some people had loads of fun using Periscope. From videos to photos, from quotes to jokes you could follow all the action on Twitter through the hashtag #LIS15.
10. The suspense of the awards… 
We had several awards to give, together with our partners. But better than the awards is just the suspense and opening of the envelope. But don't worry if you missed it, we'll do a recap of the awards pretty soon on the Lisbon Challenge blog 🙂
11. Understand how can big corporations help startups succeed
We had big names on stage from companies such as NASA, Airbus, Ogilvy and Cisco to talk about how they can help startups grow. It's important to have strong startup ecosystems and big corporations are interested.
12. Taking off to the sunset cocktail on a classic Beetle
We wanted to surprise our guests and speakers and so we took them for a ride. We had sunset cocktail prepared but other than crossing the city in a regular car we decided to go for a more classical approach. Great way to see the city and enjoy the great weather.
13. "I'm on a boat"" – The Sunset Cocktail  
We wanted to be different this time so we took some inspiration from our ancestors who took off on caravels to discover a whole new world. We rented a catamaran for the Sunset Cocktail and we had a couple of drinks aboard with our speakers, partners, and guest. It was pretty memorable to drink that gin and tonic with a gorgeous view over Lisbon and the bridge (yes it looks like the Golden Gate bridge in San Francisco but our is actually prettier).
14. The true Portuguese Party
The Lisbon Investment Summit had to end with a bang… And so there was a traditional Portuguese party with sardines and popular Portuguese music, that some of the speakers actually thought was German. Oh well, the complexity of the Portuguese language strikes again…
Thank you all for coming and see you next year!
The post Top 14 moments of the Lisbon Investment Summit appeared first on Lisbon Summit.