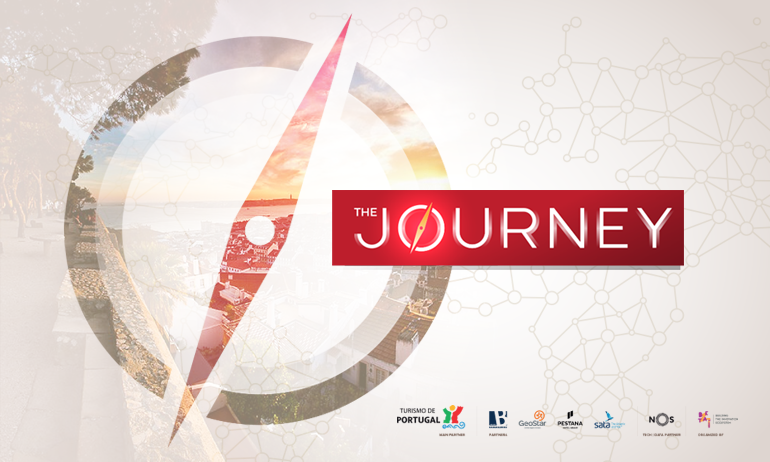 The second edition of The Journey is in full throttle!
Brought to you by Turismo de Portugal and fully dedicated to the development of innovation in the Tourism Industry, The Journey is a 3-month program with a global reach. It aims to bring startups dedicated to solving problems in the industry to work alongside Turismo de Portugal and local industry players: Grupo Barraqueiro, Geostar, Pestana Hotel Group, SATA Azores Airlines and NOS.
This second edition is focusing on four big key points:
Personalizing the customer journey

Creating a seamless traveling experience

Improve customer care

Promote conscious travelling
As an important growing industry, tourism is perfectly positioned to create the right conditions for startups and innovation to thrive in Portugal, as pointed out by the president of Turismo de Portugal, Luís Araújo.
"The idea for this project, once again organized by Beta-i, is to reinforce Portugal's positioning as an entrepreneurship and experimentation platform for startups. At a moment when the digital world both consolidates and conditions the sector's sustainability, Turismo de Portugal keeps focused on creating a friendly environment for innovation, through several initiatives to support entrepreneurship."
The bootcamp, which took place last week, gathered 20 selected startups from around the world. Beta-i gave the startups the tools they needed to prepare a business case adapted to the needs of the partners and pilot case plan of action. The week included presentations, workshops and a round of speed-dating (one on one meetings with the corporate partners), motivational talks and sharing of alumni experiences.
 The Finalists
These are the 14 startups that are conducting pilot-projects with The Journey's partners.This exciting phase will develop over the next two months, with the final results being presented on november 20th, at Lisbon Tourism Summit. 
Get to know them:
[accordion]
[item title="aPieceof.me"]A platform to find unique souvenirs and sustain local commerce and trades
Country: Portugal
Website: https://www.apieceof.me/
[/item]
[item title="CityCheck"]City Check is a location-based game app that allows you to explore and play games while visiting a city.
Country: Portugal
Website: http://citycheckapp.com [/item]
[item title="Convious"]Convious is the solution to sell more at your own website. 
Country: Netherlands
Website: http://www.convious.com
[/item]
[item title="Destygo"]All-in-one Chatbot technology for travel companies
Country: France
Website: http://www.destygo.com[/item]
[item title="GoWifi"]Monetizing free wi-fi with data analytics and marketing tools.
Country: Portugal
Website: http://business.gowi-fi.pt[/item]
[item title="Hopstay"]
We build AI-driven destination concierges for cities. 
Country: France
Website: https://www.hopstay.co[/item]
[item title="Omikuji"] Omikuji is a Software as a Service company committed to democratize the use of Big Data and Advanced Analytics solutions within small, medium and big-size business based on cutting-edge cloud based technology and custom-made data science.
Country: Colômbia
Website: https://www.omikuji.co/
[/item]
[item title="Personal2Travel"]Help travel companies to know travelers and creating personalized relationships.
Country: Brazil
Website: http://personal2travel.com[/item]
[item title="Social CxN"]SocialCxN is an automated Influencer Marketing Platform that was designed and developed to make the influencer marketing industry more transparent, collaborative, and efficient for both Brands & Influencers.
Country: U.S. 
Website: www.socialcxn.com[/item]
[item title="Timescenery"]Timescenery is a social trip planner and marketplace, making trip planning frictionless and social, especially for multi-leg itineraries, such as road trips, city hopping, business travel or any kinds of trips with busy schedule, including different places to visit and logistics.
Country: U.K.
Website: https://time.sc/[/item]
[item title="Venture With Impact"]Venture with Impact brings working professionals to cities abroad in groups of 20 or less. Venturers are provided with living accommodations, workspace, 24-hour support and culturally immersive activities for a period of one month.  Venture with Impact participants are matched with an NGO or social business to work on a project that aligns with their professional skills, interests and remote work schedule.
Country: U.S.
Website: http://venturewithimpact.org
[/item]
[item title="Wall-i"]Wall-I.TV is the most advanced cloud-based Digital Signage OS, able to provide segmented content for the audience consuming the information and versatile enough to be adaptable to the presentation of contents within different context requirements.
Country: Portugal
Website: http://wall-i.tv/
[/item]
[item title="WeTravel"]WeTravel is the payment platform for travel companies and organizers.
Country: U.S.
Website: https://www.wetravel.com/
[/item]
[item title="Waylo"]The first Hotel Price Prediction App
Country: U.S.
Website: http://thewaylo.com[/item]
[/accordion]
Take a look at The Journey's Bootcamp Week: