Are you familiar with that famous saying "Show me who your friends are and I'll tell you who you are?". Well, it's certainly one of the most common clichés ever but it reflects Beta-i within the context of how we choose who to hang out with. We are proud to be associated with those who are the best on promoting innovation and supporting entrepreneurship, regardless of the type of Institution (Universities, Corporate, Non-Profit, etc). IE Business School is one of the most concrete examples of how picky we are.
Nuestros hermanos just conquered number #1 position on the 2015 world wide ranking of the Economist Executive MBA's with their Global Executive MBA program. The Spanish Business School offers an attractive array of entrepreneurship projects backed up by multicultural teams:
Most of this events and /or programs happen in the Area 31, the IE Incubator space that accommodates up to 100 startup teams per annum. It hosts teams of IE students as they make their business ideas real in Venture Lab (IE's Startup accelerator) or the Knowledge Incubator. There are also IE Alumni teams that are incubating their own startups in Area 31. All of them are invited to present in front of investors at the weekly pitching slam, the Venture Network, and at the grand international demo days: The Venture Days.
The first date… and how it got us here: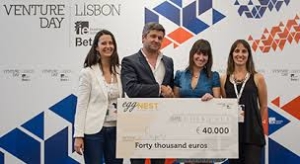 Venture Day Lisbon back in 2013 was Beta-i and IE Business School first date. At Epic Sana Hotel on the 25th of June, we sold out the tickets for the major Iberian investment event ever, in such a fruitful partnership that got us together 'til today. Venture Days' are part of IE's internationalisation strategy as the event aims to connect the local and international startup community and to look for the hottest startups to invest in, which actually happens every year as the IE's representative in Portugal, Inês Holterman stated on this testimonial video from last year's edition.
Recently we've been associating the grande finale of both accelerators – Lisbon Challenge and Venture Lab – on a single event – LISbon Investment Summit – that represents the best is done yearly within the European entrepreneurship scene. If the benefits are not obvious, we can mention some: increasing the investment possibilities, broadening the market access, promoting even more sharing practises and further networking chances and on, and on and on.
Hands-on approach
Other than this huge event, both organisations aim to help students, young people in general, entrepreneurs, intrapreneurs, and all kind of individuals to progress with an innovative mindset and a proactive attitude. Even if you don't  have the most advanced and attractive startup in the world, there are loads of events you can attend to improve your skills and accelerate your business idea.
IE Business School organises several workshops but, if you want to get your hands dirty straight away and have the real feeling of the startup-building carrousel, apply for the most amazing 3 weeks you can experience during the IE Summer School! Not only you'll get to know the vibrant city of Madrid and practise your Spanish, but you'll also learn a hell of a lot about entrepreneurship related subjects such as design thinking, big data or business finance and you'll be able to specialise in one of these 3 areas: International Relations, International Business Law or Entrepreneurship.
The post Yes, Portugal and Spain are Celebrating 3 years in a Relationship appeared first on Lisbon Summit.