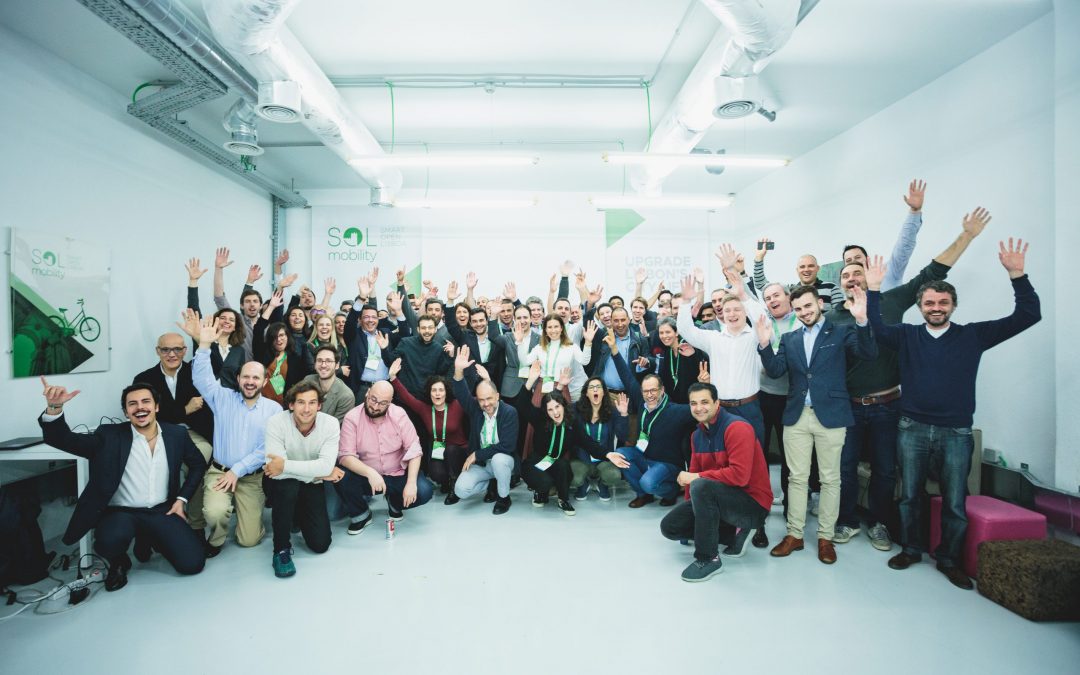 Such a week! From 3rd to the 7th of February, the SOL Mobility bootcamp brought 25 startups from 13 different countries to present their solutions for urban mobility to the public and corporate partners of this Smart Open Lisboa (SOL) vertical edition. Urban mobility is a context where convergence is absolutely crucial to make change happen, so the collaborative innovation approach managed by Beta-i on this Open Innovation program just fits like a glove.
Led by Lisbon Municipality, SOL Mobility counts with the mobility partners ANA – Aeroportos de Portugal (airports), Brisa (automatic & integrated toll and services payments, amongst other businesses), Carris (urban mobility through bus, trams and more), CP – Comboios de Portugal (local, regional and national mobility), tb.lx by Daimler Trucks & Buses (big data for mobility), Emel (public mobility and parking management), Galp (energy) and Siemens – not to mention associated partners Axians, NOS, TOMI, Sharing Cities and Turismo de Portugal.
And after five days of intense collaboration between corporates and startups, always under Beta-i guidance and experts team support, 17 out of these 25 startups were invited to keep working with the companies, in order to develop the stunning number of 30+ pilots from now on. Check this quick video:
Such achievement was only possible because of the partner's vision and commitment to tackle some of Lisbon's biggest mobility challenges: from E-mobility to Digital & Personalized Mobility, from Smart Parking to Fleet, Asset and Traffic Management. They were able not only to select promising solutions from international startups but also to set up joint pilots – the best metric to translate the true collaborative innovation culture enforced by Beta-i on a daily basis.
"Our challenges are so big and diverse. That's why this is a very good program since it enables us to work with different companies, partners and people to get different solutions", points out the Head of the Municipal Mobility & Transport Directorate in Lisbon, Francisca Ramalhosa. She adds that "think and act like a startup" is also a huge cultural challenge – a common topic shared by some other partners, such as CP, which is currently implementing a strategic planning and innovation area. "It is crucial for us to be aware of the changes in our industry and stay open for a dialogue with a new generation of mobility solutions, so programs like this are really important", adds CP Sectorial Supervisor, Teresa Sousa.
International and fully private companies also acknowledge the need for mutual collaboration to boost new models. "You can't solve problems being isolated or alone. We must converge our efforts and combine solutions", says Director for Connected Mobility at Siemens, Andy Gill. "So getting to know these high-quality startups during the program, and partnering with those who see us as a valuable partner to move forward is a fantastic model". His thoughts also resonate on Galp, the Portuguese-based energy company that recently announced its shift as the biggest solar energy player in the Iberian Peninsula. "We're diversifying our energy sources, and this shift must be accompanied by other strategic moves", adds Galp Head of Innovation and Energy Efficiency, Nicolle Fernandes. "That's what we understand SOL Mobility as a valuable program to help us see new ways of doing things and push for tangible innovation, perceived by our final clients".
Lisbon has won the title of European Green Capital 2020, and one of the reasons is that Lisbon has a cohesive city-wide vision for sustainable urban mobility. This is achieved through measures to restrict car use and prioritise walking, cycling and public transport, and also by promoting programs like Smart Open Lisboa. This year the City Council also signed a Corporate Mobility Pact with several local partners (companies and institutions) with a set of commitments designed to make mobility in Lisbon more sustainable, through means such as creating conditions for employees to adopt new solutions and mobility behaviours.
So get ready for May, when all the pilot development impact results will be presented during SOL Mobility Demo Day: stay smart & open – oops, stay tuned 🙂