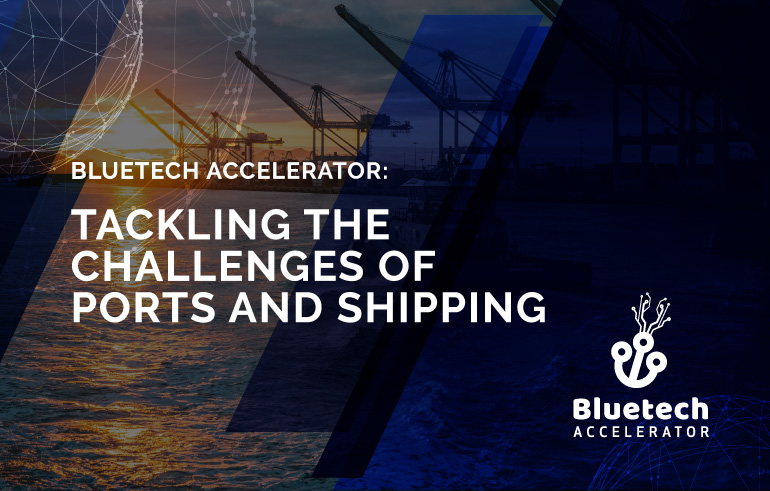 The ports and shipping industry is ready to step into the future. Bluetech accelerator has arrived, looking to build the ports of the future: autonomous systems for ports and smart shipping, with seamless processes between sea and land, digital data that will make decisions easy and informed, and new techs that will allow for environmental sustainability. Ready to be a part of it?
Bluetech Accelerator
Born out of the partnership of the Portuguese Ministry of the Sea and FLAD – Luso-American Development Foundation, and powered by DGPM and Beta-i, Bluetech accelerator aims to connect the most innovative tech and ocean startups with leading players in the industry to create a new blue economy – one that is modern, data-based, technologically advanced and environmentally friendly.
To achieve it, the programme will have 3 editions – Ports and shipping, aquaculture and fishing, and energy and sustainability.
Ports and Shipping
The first edition of the programme will focus on Ports and Shipping 4.0. Innovation is arriving in the industry, and as a strategically positioned country, Portugal has a sea of opportunities: startups joining the programme will work directly with Portugal's biggest ports, relevant players in the shipping industry and leaders in the mobile satellite communications and digital economy – get to know the Bluetech Pioneers here.
The goal is to work towards the ports of the future: a seamless process of shipping, connection and cargo transport to land and accessible information across the supply-chain.
The challenges
The challenges the program hopes to tackle are:
Process Optimization in Port Hinterland
Cargo and Fleet Performance Management
Future Shipping Connectivity
Environmental Sustainability
You can read a more detailed description of each of the challenges here.
Tech We're Looking for
Bluetech Accelerator is looking for startups technologies ranging from smart shipping and sea surveillance to big data and analytics. Get to know all the technologies Bluetech is looking for here.
A whole new generation of ocean startups
The challenges presented by the program, are relevant all around the world and can be industry changing. Today is more important than ever to work on changing vital industries to be more efficient, more connected and more sustainable, to better serve our economy and our planet.
Bluetech aims to build a new generation of ocean startups that will be the catalyst of this change and the builders of a modern ocean economy.
Get to know more about the programme here.